What are current estimates of local risk-free rates (RFR) and annual premiums over RFRs demanded in each country by equity investors (equity risk premium, or ERP)? In their April 2015 paper entitled "Discount Rate (Risk-Free Rate and Market Risk Premium) Used for 41 Countries in 2015: A Survey", Pablo Fernandez, Alberto Ortiz and Isabel Acin summarize the results of a March-April 2015 email survey of international finance/economic professors, analysts and company managers "about the risk-free rate and the Market Risk Premium used to calculate the required return on equity in different countries." Based on 4,573 specific and credible responses spanning 41 countries (those with at least 25 such responses), they find that:
Across all 41 countries (see the chart below):

Average RFR responses range from 0.6% for Hungary to 15.0% for Greece.
Average ERP responses range from 5.2% for Israel to 22.9% for Argentina.
Average total required returns (RFR+ERP) range from 6.1% for Israel to 35.5% for Argentina.

About 43% of all responses are for the U.S. The average RFR (ERP) response for the U.S. is 2.7% (5.5%) for a total required return of 7.9%.
Weighting all 41 countries equally, the average worldwide ERP is 7.4%.
The following chart, constructed from data in the paper, summarizes average RFR and ERP responses for the 41 countries with at least 25 specific and credible responses to a request for estimates directed to finance/economic professors, analysts and company managers. The order is from lowest to highest average total required returns (RFR+ERP).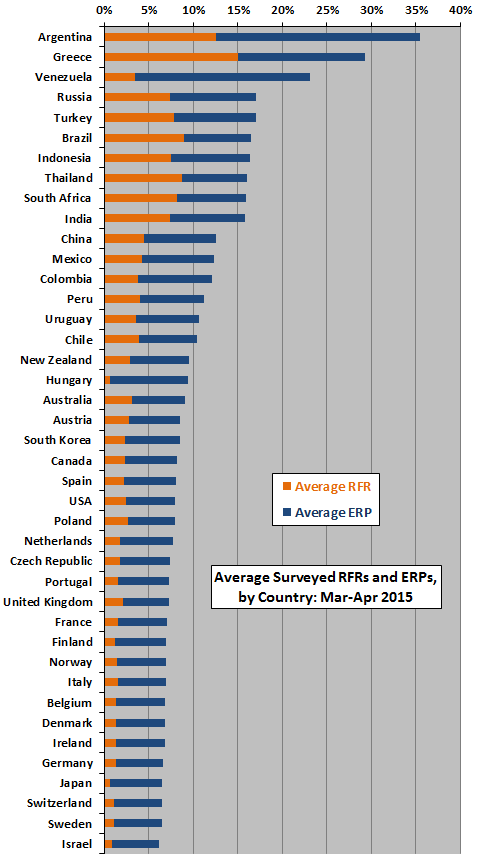 In summary, average local risk-free rates (equity risk premiums) for 2015 based on responses to a broad survey of international professors, analysts and companies range from about 0.6% (5.1%) to about 15% (23%) across 41 countries.
Cautions regarding findings include:
Many country samples are small.
Standard deviations (uncertainties) for RFR and ERP estimates vary considerably by country.
As noted in the paper, average RFR estimates for the U.S., Europe and the UK are higher than the yields on local 10-year government bonds.