What Kind of Asset Is Bitcoin?
September 28, 2017 • Posted in Currency Trading
Does Bitcoin behave like some other asset class? To investigate, we calculate daily and monthly return correlations between Bitcoin and each of 34 exchange-traded products encompassing eight used in "Simple Asset Class ETF Momentum Strategy " (SACEMS), 24 considered in "SACEMS Portfolio-Asset Addition Testing" plus SPDR Bloomberg Barclays 1-3 Month T-Bill (BIL) and Powershares DB US Dollar Index Bullish Fund (UUP). These selections represent a broad set of asset classes. We start calculations in July 2010 based on Bitcoin price availability. Three of the 34 exchange-traded products (ALFA, BDCS and XIV) are not available until later. We use subsamples of monthly data for robustness testing. Using daily and monthly adjusted (for dividends and splits) prices for Bitcoin and the 34 exchange-traded products during July 19, 2010 through September 8, 2017, we find that:
Bitcoin prices are available for all calendar days. For these analyses, we ignore Bitcoin prices for days on which exchange-traded products do not trade.
The following tables summarize correlations between Bitcoin returns and returns for each of the 34 exchange-traded product over the full daily and monthly samples and two monthly subsamples focused on recent data. Each table lists products from lowest (most negative) to highest correlations. The most notable findings are:
Bitcoin is not strongly like any of the other assets tested.
Bitcoin returns consistently relate negatively to VXX and VXZ (short VIX futures), suggesting that rising (falling) U.S. stock market volatility is bad (good) for Bitcoin.
For clarity, we focus on the five lowest, five middle and five highest correlations.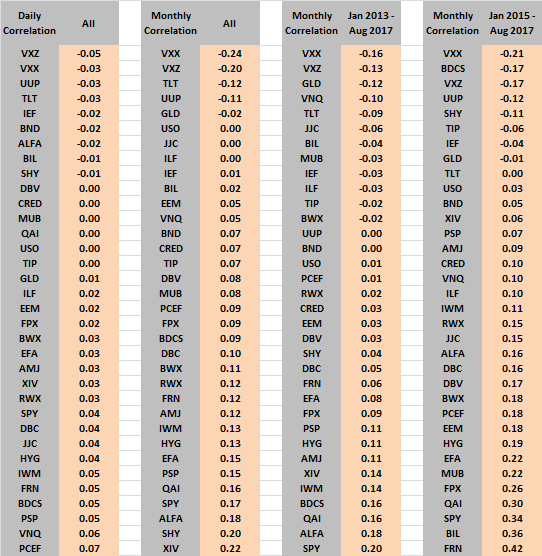 The following table lists the five assets with the lowest, middle and highest return correlations with Bitcoin over the four sample periods. Results weakly suggest that Bitcoin tends to move:
As noted, against VXX and VXZ (short VIX futures).
Independently of RWX (international real estate), TIP (inflation-indexed U.S. Treasuries), CRED (diversified investment-grade bonds) and FPX (U.S. IPOs).
With QAI (tracking multi-strategy hedge funds), SPY (S&P 500 Index), ALFA (tracking hedge fund and institutional investor equity holdings) and FRN (frontier equity markets).
Overall, it appears that Bitcoin performs best when the U.S. equity market is and calm and relatively strong. However, no correlations are compelling, and Bitcoin does not exhibit a notable positive correlation with XIV (long VIX futures).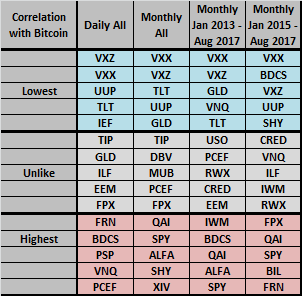 In summary, evidence from available data suggests Bitcoin tends to do better when the U.S. equity market is calm and relatively strong, with no other obvious asset class relationships.
In other words, Bitcoin does not appear to be a flight-to-safety asset or a gold substitute.
Cautions regarding findings include:
Daily closing price measurement times are different for Bitcoin and exchange-traded products, thereby partly confounding daily return correlation calculations.
The available sample period (and especially subperiods) are short in terms of variety of economic conditions.
Bitcoin price fluctuations are dramatic, reflecting product immaturity/unfamiliarity (and sovereign regulation/intervention) that may confound simple inference.
The above correlations measure linear relationships only.
See also:
Why not subscribe to our premium content?
It costs less than a single trading commission.
Learn more here.