Allocations for September 2023 (Final)
Cash TLT LQD SPY
Allocations for September 2023 (Final)
1st ETF 2nd ETF 3rd ETF
About The CXO Advisory Group LLC
CXOadvisory.com presents investing models, research summaries, analyses and reviews designed for objective, unique and concise value to serious investors — a modicum of actionable conclusions filtered from a very noisy environment. The default approach is to challenge any and all conventional market wisdom with analysis. Part of CXOadvisory.com is subscriber-only, and part is free. The CXO Advisory Group LLC of Manassas, Virginia maintains the site.
---
Steve LeCompte, Editor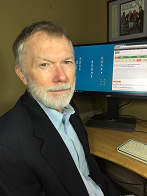 CXO Advisory Group LLC founder Steve LeCompte is editor of CXOadvisory.com, responsible for all site content since 2000. His prior experience includes: project officer on the staff of Admiral H.G. Rickover at Naval Reactors; engineering and program management for complex systems with International Business Machines; senior consultant and executive manager for market research and new media development with units of International Data Group, including International Data Corporation; and, longstanding private investor in stocks, mutual funds, exchange-traded funds and options. He holds a B.S. in physics, summa cum laude, from Miami University and an M.S. in Physics from the University of Michigan. He is a graduate of the Program Management Course of the Defense Systems Management College.
Chris LeCompte, Publisher
Chris LeCompte is publisher of CXOadvisory.com, responsible for business operations, advertising and subscriber support. He is a freelance web designer and developer and a member of The CXO Advisory Group LLC. He holds a B.S. in management from George Mason University.
---
The CXO Advisory Group LLC does not manage money for others or offer personalized financial advice. We do not publish articles by others for a fee, exchange links or purchase web site traffic-generation services (and we do not respond to inquiries about same).