Allocations for January 2021 (Final)
Cash TLT LQD SPY
Allocations for January 2021 (Final)
1st ETF 2nd ETF 3rd ETF
Combined Value-Momentum Strategy (SACEVS-SACEMS)
The Simple Asset Class ETF Value Strategy (SACEVS) seeks diversification across a small set of asset class exchange-traded funds (ETF) plus a monthly  tactical edge from timing term, credit and equity risk premiums. The two versions of SACEVS are: (1) most undervalued premium (Best Value) ; and, (2) weighting all undervalued premiums according to respective degree of undervaluation (Weighted).
The Simple Asset Class ETF Momentum Strategy (SACEMS) seeks diversification across asset classes via ETFs plus a monthly tactical edge from intermediate-term momentum. The three versions of SACEMS, all based on total ETF returns over recent months, are: (1) top one of nine ETFs (Top 1); (2) equally weighted top two (EW Top 2); and, (3) equally weighted top three (EW Top 3).
Based on feedback from subscribers about combinations of interest, we look at three equal-weighted (50-50) diversifying combinations of SACEVS and SACEMS, rebalanced monthly:
50-50 Best Value – EW Top 2

: SACEVS Best Value paired with SACEMS Equally Weighted (EW) Top 2 (aggressive value and somewhat aggressive momentum).

50-50 Best Value – EW Top 3

: SACEVS Best Value paired with SACEMS EW Top 3 (aggressive value and diversified momentum).

50-50 Weighted – EW Top 3

: SACEVS Weighted paired with SACEMS EW Top 3 (diversified value and diversified momentum).
Supporting research includes (items may at times be unavailable for a few days during updates):
Some additional relevant but less directly applicable research is in the last list of items in "What Works Best?".
Some investors may want to follow one of the 50-50 combined strategies. Others may want to modify the strategy with other than equal weights for SACEVS and SACEMS, as explored in "SACEMS-SACEVS for Value-Momentum Diversification".
Cumulative Performance
The following chart tracks gross cumulative values of $100,000 initial investments in each of the above three combination strategies since the end of June 2006. It includes as a benchmark a simple technical strategy (SPY:SMA10) that holds SPDR S&P 500 ETF Trust (SPY) when the S&P 500 Index is above its 10-month simple moving average and 3-month U.S. Treasury bills (Cash, or T-bills) when below.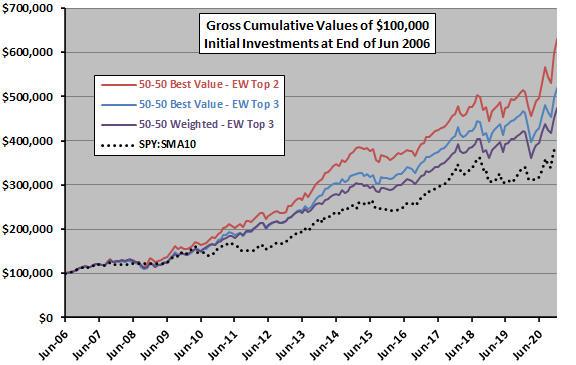 For perspective, we look at an array of performance metrics.
Performance Statistics
The following table summarizes annual/annualized returns for these three strategies, and for SPY and SPY:SMA10. Annualized returns are compound annual growth rates. Maximum drawdown is the deepest peak-to-trough drawdown for these strategies based on monthly measurements over the sample period. For Sharpe ratio, to calculate excess annual return, we use average monthly yield on 3-month Treasury bills during a year as the risk-free rate for that year.
Portfolio performance calculations are based on assumptions as summarized in Value Strategy and Momentum Strategy.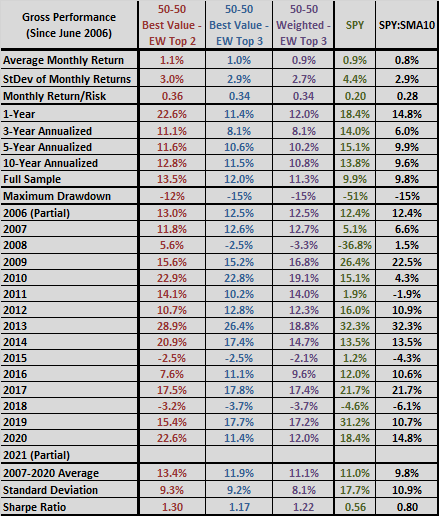 Something to keep in mind is that testing different SACEMS-SACEVS combinations and/or adjusting weights based on sensitivity tests incorporates data snooping bias, such that the best-performing combination overstates expectations.