In The Anglosphere Challenge: Why the English-Speaking Nations Will Lead the Way in the Twenty-First Century, James Bennett implicitly advises focusing investments in certain countries. As depicted in the figure below, Mr. Bennett's main thesis points are that:
Several emerging technologies, such as the Internet and nanotechnology, will be high disruptive to current economic systems. These technologies will naturally drive more and more information content into products and services, and they will enable radical downscaling and distribution of product development and manufacturing, even to the level of individual people.
Certain civic/cultural infrastructures will better survive and exploit the risks and opportunities of these changes. Critical infrastructure features are: (1) free and accountable individuals; (2) trust-validating systems that enable the rapid assembly and disassembly of the efforts of free individuals into effective opportunity/mission-focused enterprises; (3) openness that permits both the transfer of trust-validating templates to outsiders and adaptation to new types of associations (such as those offered by the Internet); and, (4) low transaction costs derived from commonality of language, laws and business practices.
Because the English-speaking civic states possess these infrastructure elements, the Anglosphere is best positioned to survive and thrive during the emerging technological revolutions.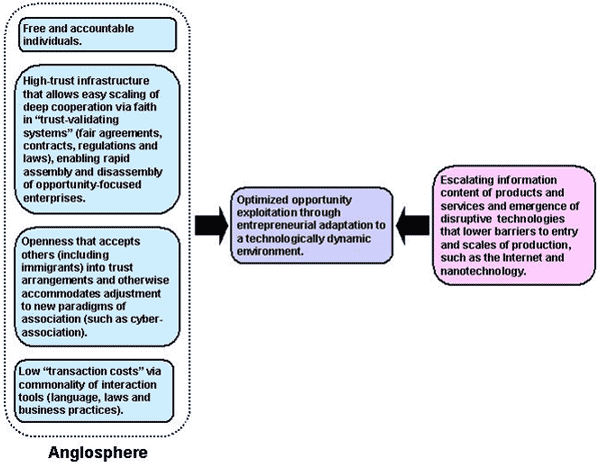 In summary, Mr. Bennett would recommend focusing long-term, non-U.S. investments in Australia, Britain, Canada, Ireland, New Zealand and perhaps South Africa and India. "The Anglosphere is where the action is going to be."
This book is for investors with long-term investment horizons (decades) and to those otherwise interested in the potential economic and political implications of emerging disruptive technologies. Relevant overview information is available at the Anglosphere web site.