In a series of nine presentation slide sets (Lectures 1-9 of 10) on "Advances in Financial Machine Learning", Marcos Lopez de Prado provides part of Cornell University's ORIE 5256 graduate course at the School of Engineering ("Special Topics in Financial Engineering V"). The course description includes: "Machine learning (ML) is changing virtually every aspect of our lives. As it relates to finance, this is the most exciting time to adopt a disruptive technology that will transform how everyone invests for generations [see the chart below]. Students will learn scientifically sound ML tools used in the financial industry." Key points in these slide sets include:
The following chart, taken from the second slide set above, compares cumulative performances of an AI-based hedge fund index and a broader hedge fund index over the past 7+ years. (Gross) Sharpe ratio of the AI-based index is 1.72.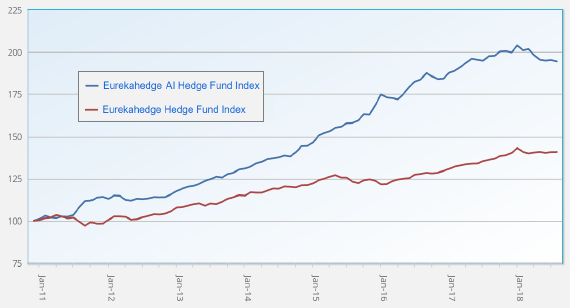 Cautions/observations regarding points include:
Although presented in the context of machine learning, many principles addressed apply to investment strategy development generally.
While some of the methods summarized above may be out of their reach, conventional traders should understand their machine learning competition.
Widespread application of machine learning to investment management may materially alter financial markets, both extinguishing many opportunities and perhaps creating a few new ones.