A reader asked and commented: "How has Jack Steiman done? I have heard that he does a good job of calling the markets."
---
Jack Steiman offers "stock picks, trade alerts, and technical analysis for swing traders" via SwingTradeOnline, a service of Market Insider Corporation. According to SwingTradeOnline, Jack Steiman "is a former columnist for TheStreet.com who is renowned for calling major shifts in the market. President of New York-based Visionary Research Group, Jack consults to individuals and companies on stock market analysis and education." A search of TheStreet.com for "Jack Steiman" does not produce enough results to test his renown.
SwingTradeOnline presents a performance summary for his swing trade recommendations with summary data claiming triple-digit annual total returns and an average inception-to-date return per trade of 0.95%. Trade details are available only for about four months. According to the SwingTradeOnline disclaimer:
"Mr. Steiman's commentaries and index analysis represent his own opinions and should not be relied upon for purposes of effecting securities transactions or other investing strategies… You should not interpret Mr. Steiman's opinions as constituting investment advice. Trades mentioned on the site are hypothetical, not actual, positions and Mr. Steiman and the publishers of this site do not have personal positions in instruments mentioned on the site.
"Hypothetical performance results do not include trading commissions and other execution costs that would be incurred if the trades referenced on the site were actual trades. Past performance is no guarantee of future results.
"Mr. Steiman and the publishers of this site cannot and do not assess, verify or guarantee the suitability or profitability of any particular investment."
Note that the disclaimer is saying:
The trades did not really happen.
The performance calculations do not include reasonable trading frictions (bid-ask spread and transaction costs).
Jack Steiman and his associates apparently choose not to make these trades themselves.
Note also that the SwingTradeOnline fee of about $100 per month is additive to trading frictions.
Note further that SwingTradeOnline does not state the assumptions about portfolio position management (percentage of portfolio allocated to each trade) used to calculate claimed total return performance. The following chart plots the number of SwingTradeOnline open positions derived from the detailed closed position data for 1/4/10-4/26/10. Based on this modest sample, a subscriber must plan for at least eight concurrent positions to participate in all trades, with the overall portfolio therefore mostly in cash much of the time. Only with perfect hindsight could the subscriber capture full per-trade returns at the portfolio level.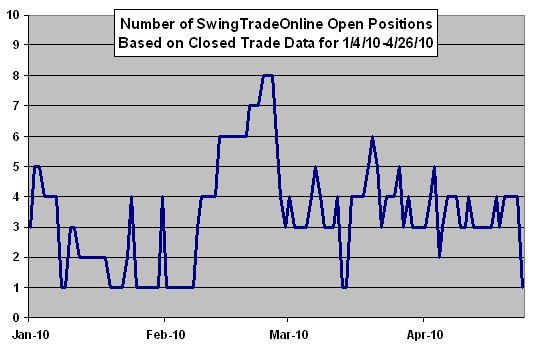 In summary, there is considerable burden on prospective subscribers to determine whether SwingTradeOnline signals could be profitable for them at a portfolio level after reasonable trading frictions and subscriber fee.