In his December 2004 paper, Jason Hsu shows that: "Cap-Weighted Portfolios Are Sub-optimal Portfolios". Noting that over $10 trillion are currently invested in passive capitalization-weighted indices, he examines data from 1962-2003 to show that:
Weighting a portfolio according to capitalization introduces bias for overpriced stocks and against underpriced stocks.
A portfolio weighted by book value, income or sales outperforms a comparable capitalization-weighted portfolio by roughly 2% per year, with similar volatility and therefore higher Sharpe ratio. (see chart below.)
Given comparable turnovers among portfolios, the higher returns of alternatives are economically significant to investors.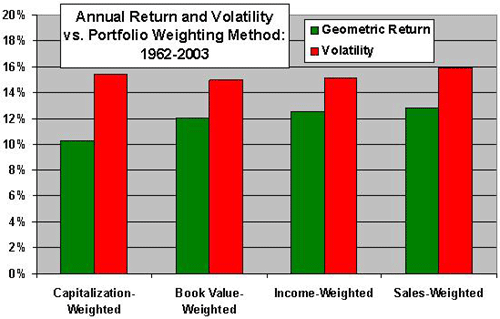 In summary, capitalization-weighted portfolios/funds are inherently underperforming.