Sector Performance by Calendar Month
January 5, 2016 • Posted in Calendar Effects
The Trading Calendar presents full-year and monthly cumulative performance profiles for the overall stock market (S&P 500 Index) based on its average daily behavior since 1950. How much do the corresponding monthly behaviors of the various stock market sectors deviate from an overall market profile? To investigate, we consider the nine sectors defined by the Select Sector Standard & Poor's Depository Receipts (SPDR), all of which have trading data back to December 1998:
Materials Select Sector SPDR (XLB)
Energy Select Sector SPDR (XLE)
Financial Select Sector SPDR (XLF)
Industrial Select Sector SPDR (XLI)
Technology Select Sector SPDR (XLK)
Consumer Staples Select Sector SPDR (XLP)
Utilities Select Sector SPDR (XLU)
Health Care Select Sector SPDR (XLV)
Consumer Discretionary Select SPDR (XLY)
Using monthly adjusted closing prices for these exchange traded funds (ETF) since inception, along with contemporaneous data for Standard & Poor's Depository Receipts (SPY) as a benchmark, for December 1998 through December 2015 (205 months), we find that:
The following chart shows the average (equally weighted) sector performance and the dispersion of sector performances by calendar month over the sample period. Sectors are on average strongest in spring and fall and weakest in late winter and summer. Sector activity is most dispersed in January, February and November and most compressed in March, May, June, July and especially August.
How do average returns break down by sector?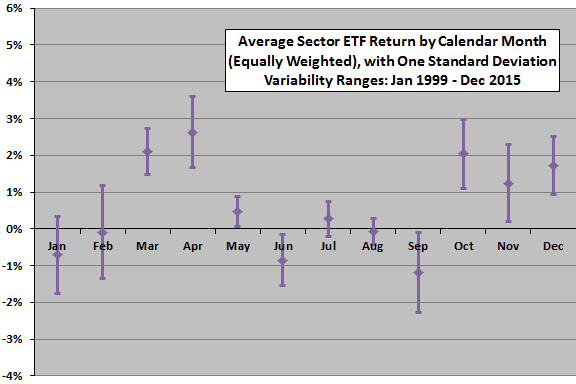 The next three charts show the average returns by calendar month, in groups of three, for the nine sector ETFs over the available sample period. Each chart also shows the average returns by month for SPY as a broad market benchmark.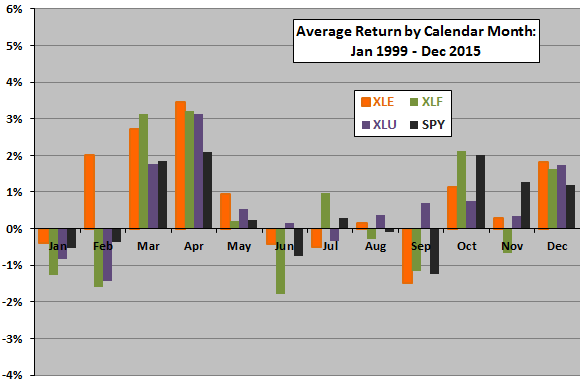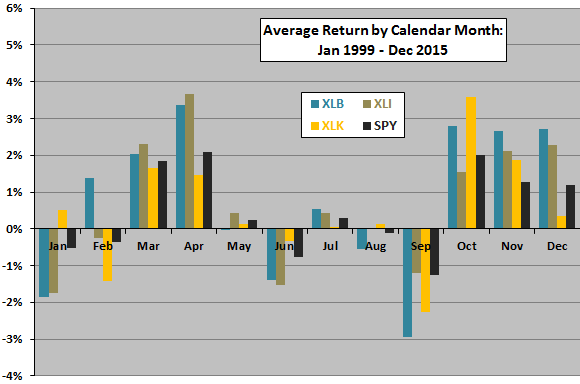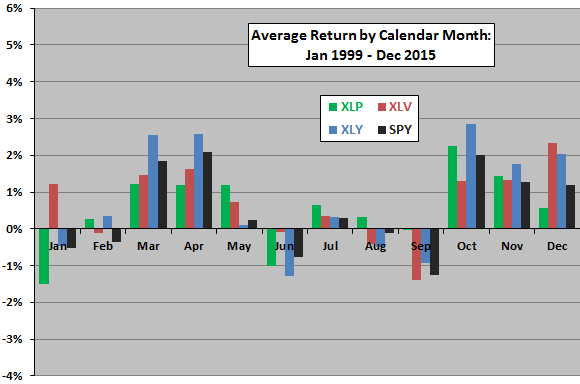 The following table lists the sectors with the two highest and two lowest average returns for each calendar month.

In summary, evidence suggests that calendar effects may vary across U.S. sector ETFs.
Cautions regarding findings include:
Given the variabilities in annual returns, sample size (17 years) is very small for reliable inference.
Returns do not account for any trading frictions involved in calendar-based sector rotation.
Why not subscribe to our premium content?
It costs less than a single trading commission.
Learn more here.