Do gold and gold mining stocks exhibit exploitable seasonality? Using monthly closes for spot gold and the S&P 500 Index since December 1974, PHLX Gold/Silver Sector (XAU) since December 1983, AMEX Gold Bugs Index (HUI) since June 1996 and SPDR Gold Shares (GLD) since November 2004, all through January 2019, we find that:
The following chart compares average returns by calendar month for spot gold and the S&P 500 Index over the selected sample period. While the correlation between the two (very short) series is -0.36, spot gold does not reliably mirror stocks. The most pronounced difference in returns is for September.
Annual returns for gold (stocks) are exceptionally volatile for January and September (January and October).
A separate test suggests that gold (stocks) tends to be strongest during the second and third (first and third) U.S. presidential term years, and weakest during the fourth (second).
As a robustness test, we break the spot gold sample into halves.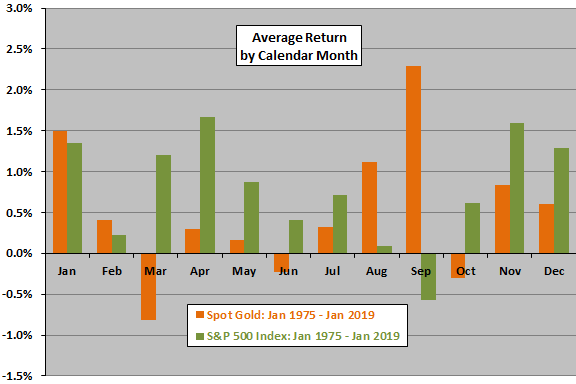 The next chart compares average returns by calendar month for spot gold during two equal subperiods (with break point between 1996 and 1997). Similarities reinforce belief in seasonality, and differences undermine belief. Overall, subperiod returns are more dissimilar than similar.
What about the sector indexes and GLD?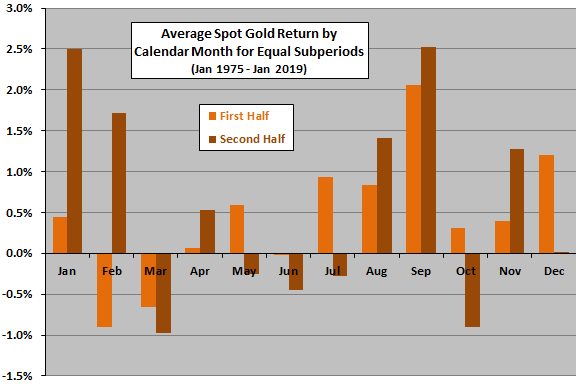 The final chart shows average monthly returns by calendar month for spot gold, XAU, HUI and GLD over their respective available sample periods. The most apparent consistencies are:
Strength in January, February, August, September and November.
Weakness in March, June, July and October.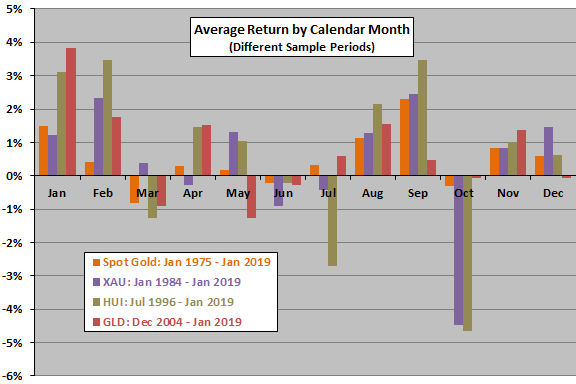 In summary, evidence from simple tests supports some belief that gold and gold mining stocks tend to have strong and weak months of the year, but sample periods are not long and returns exhibit considerable variability.
Cautions regarding findings include:
Why not subscribe to our premium content?
It costs less than a single trading commission.
Learn more here.