A reader inquired whether the Turn-of-the-Month Effect, a concentration of positive stock market returns around the turns of calendar months, works for U.S. stock market sectors. To investigate, we measure turn-of-the-month (TOTM) returns for the nine sector exchange-traded funds (ETF) defined by the Select Sector Standard & Poor's Depository Receipts (SPDR), all of which have traded since December 1998:
We define TOTM as the eight-trading day interval from the close five trading days before the first trading day of a month to the close on the fourth trading day of the month. Using daily dividend-adjusted closes for the sector ETFs and for S&P Depository Receipts (SPY) as a benchmark from December 1998 through mid-May 2020, we find that:
The following chart compares average raw TOTM returns for SPY and the sector ETFs to those for all respective intervals of eight trading days over the entire sample period. Results indicate that TOTM returns are abnormal for all sectors, but varying in magnitude. Standard deviations of returns are mostly a little smaller for TOTMs than for all respective eight-trading day intervals, indicating no elevation in risk for TOTMs.
For perspective, we summarize the abnormal TOTM by sector.
The next chart compares abnormal TOTM returns (differences between above pairs of returns) for SPY and the sector ETFs. Results for most sectors are potentially exploitable.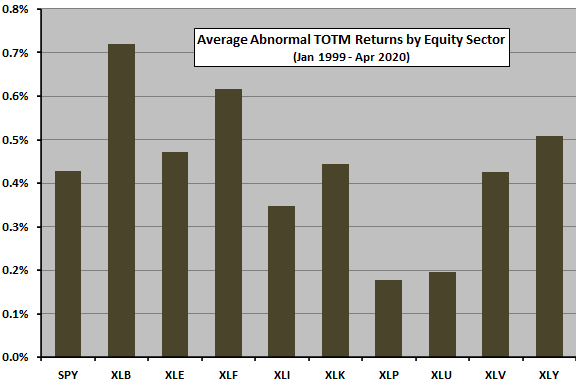 In summary, evidence from simple tests on recent samples supports belief that the turn-of-the-month effect holds for major stock market sectors.
Cautions regarding findings include:
Sample periods are not long in terms of variety of general market conditions.
Exploitation implies trading frictions that would shave reported returns depending on account trading fees and size.
Data snooping bias tends to overstate (understate) expectations for the best (worst) sector.