A subscriber asked which asset (short stocks, cash, bonds by subclass) is best to hold during equity bear markets. To investigate, we consider two ways to define a bear market: (1) months when SPDR S&P 500 (SPY) is below its 10-month simple moving average (SMA10) at the end of the prior month; and, (2) months when SPY is in drawdown by at least 20% from a high-water mark at the end of the prior month. We consider nine alternative assets:
Short SPY
Cash, estimated using the yield on 3-month U.S. Treasury bills (T-bill)
Vanguard GNMA Securities (VFIIX)
T. Rowe Price International Bonds (RPIBX)
Vanguard Long-Term Treasury Bonds (VUSTX)
Fidelity Convertible Securities (FCVSX)
T. Rowe Price High-Yield Bonds (PRHYX)
Fidelity Select Gold Portfolio (FSAGX)
Specifically, we compare monthly return statistics, compound annual growth rates (CAGR) and maximum (peak-to-trough) drawdowns (MaxDD) of these nine alternatives during bear market months. Using monthly T-bill yield and monthly dividend-adjusted closing prices for the above assets during January 1993 (as limited by SPY) through Feb 2020, we find that:
Calculations assume:
It is feasible to anticipate monthly bear market signals such that any trades could occur at the same monthly closes.
The short SPY position is fully capitalized, and the size of the short position in SPY resets monthly to reflect monthly gains/losses
Ignore trading frictions/constraints and costs of shorting (to the disadvantage of Cash and the advantage of shorting SPY).
Ignore tax implications of trading.
Over the available history of SPY, there are 72 bear months (23% of sample months) based on the SMA10 definition (< SMA10), concentrated during October 2000 through April 2003 and January 2008 through June 2009. For the drawdown definition (DD < -20%), there are 64 bear months (20% of sample months), similarly concentrated.
The following chart summarizes correlations of monthly returns for each of the nine alternatives with those of SPY during bear months for each bear market definition. Notable points are:
Convertible bonds (FCVSX) and high-yield bonds (PRHYX) act much like stocks.
Mortgage-backed securities (VFIIX) and long-term U.S. Treasury bonds (VUSTX) behave similarly. 
For perspective, we look at monthly statistics of alternatives during bear markets.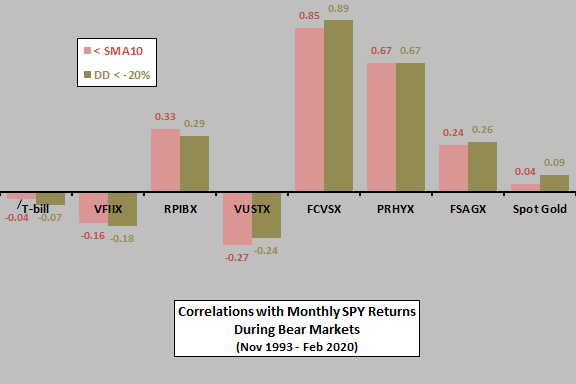 The next two charts summarize average monthly returns of the nine alternatives during bear months, with one standard deviation variability ranges. The upper (lower) chart employs the < SMA10 (DD < -20%) bear market definition. Notable points are:
< SMA10 is much more effective than DD < -20% for timing SPY.
SPY Short does not work well as an alternative asset.
T-bill and VFIIX are conservative alternatives.
FSAGX has impressive CAGRs but extreme variability.
RPIBX and Spot Gold are relatively attractive.
Attractiveness or VUSTX, FCVSX and PRHYX depends on bear market definition.
For another perspective we look at cumulative performances of alternative assets during bear market months in sequence.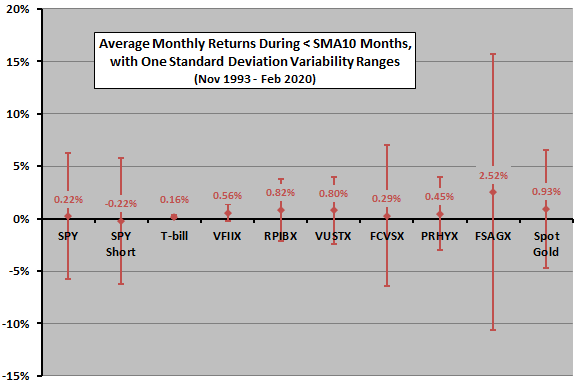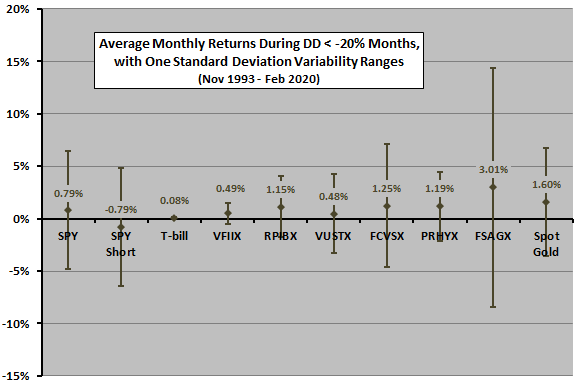 The following table summarizes findings above and adds CAGRs and MaxDDs for alternatives assets as computed during bear market months in sequence. Results generally confirm the points identified above.
Finally, we visualize cumulative performances for the < SMA10 definition.

The final chart compares cumulative gross performances of alternative assets for the < SMA10 bear market definition for all bear market months in sequence during the sample period. Of note is the wild performance of FSAGX.
In summary, evidence from simple tests over the available sample period suggests that high-rated, long-term debt securities and spot gold offer the best combinations of profitability and safety during U.S. equity bear markets.
Cautions regarding findings include:
This sample is small in terms of number of extended bear markets.
Most of the sample period is a bond bull market (declining interest rates) and may not be representative of future interest rate/bond market conditions.
Some other definition of equity bear market conditions may produce different results.
Findings may to some degree be attributable to idiosyncratic strategies of the selected mutual funds.
Simplifying assumptions regarding signal/execution timing and trading/shorting costs may affect findings.
See also "Best Safe Haven ETF?"  for more granular but shorter tests of exchange-traded funds (ETF) for protection against U.S. stock market weakness.