Each year in December, as for this year, Barron's publishes its list of the best 10 stocks for the next year. Do these picks on average beat the market? To investigate, we scrape the web to find these lists for years 2011 through 2020, calculate associated calendar year total returns for each stock and calculate the average return for the 10 stocks for each year. We use SPDR S&P 500 ETF Trust (SPY) as a benchmark for these averages. We source most stock prices from Yahoo!Finance, but also use Historical Stock Price.com for a few stocks no longer tracked by Yahoo!Finance. Using year-end dividend-adjusted stock prices for the specified stocks-years from the end of 2010 through the end of 2020, we find that:
The following table presents Barron's top 10 stocks for each of years 2011 through 2020 in ticker alphabetic order. 

The following chart summarizes average gross total returns for the Barron's top 10 by year over the sample period, with total returns for SPY included as a benchmark. The Barron's top 10 wins three of 10 years. Overall average return for Barron's picks across years is 11.4%, compared to 14.4% for SPY.
For another perspective, we calculate Barron's top 10 portfolio alpha and beta with respect to SPY.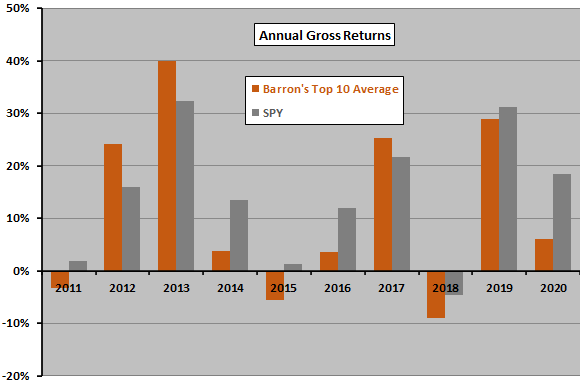 The following scatter plot relates Barron's top 10 average gross return by year (vertical axis) to SPY total return over the sample period. Notable points are:
The R-squared statistic for the relationship is 0.86, meaning that variation in SPY returns explains 86% of the variation in Barron's top 10 average returns.
The y-intercept of the relationship is -6.7%, meaning that the Barron's top 10 has annual gross alpha -6.7%.
The slope of the relationship is 1.26, meaning that the Barron's top 10 has a fairly high beta.
Accounting for frictions for annual reformation of the Barron's top 10 portfolio (and for taxes, if applicable) would reduce average top 10 returns.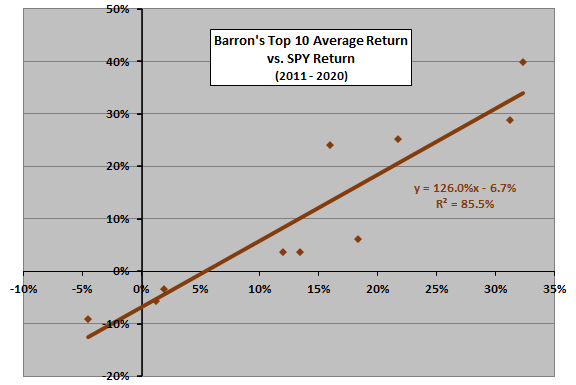 In summary, a short sample indicates that the Barron's top 10 list of stocks has not performed impressively compared to the market over the last decade.
Cautions regarding findings include:
The sample period is short for analysis of annual performance.
As noted, returns are gross, not net, thereby overstating performance of the Barron's top 10 portfolio across the sample period.
Since Barron's publishes top 10 lists during December, there may be a publication boost not captured by year-end prices.
As noted, a few prices come from alternative sources. The calculation for UTX in 2020 (during which the company went private) is based on the last available price from mid-April 2020, for which there is no trading volume.