Are Managed Futures ETFs Working?
October 6, 2017 • Posted in Commodity Futures, Currency Trading
Are managed futures, as implemented by exchange-traded funds (ETF), attractive? To investigate, we consider three managed futures ETFs, all currently available:
We focus on compound annual growth rate (CAGR), maximum drawdown (MaxDD) and correlation of returns with those of SPDR S&P 500 (SPY) as key performance statistics. We use Eurekahedge CTA/Managed Futures Hedge Fund Index (the index) as a benchmark. Using monthly returns for the three funds as available through August 2017, and contemporaneous monthly returns for the benchmark index and SPY, we find that:
Trading in FUT is so thin (many days with zero volume) that there is often no price discovery, so we perform no return analysis on it.
The following tables summarize sample periods and performance data for WDTI and FMF, along with contemporaneous performance data for the benchmark index. Notable points are:
Both ETFs substantially underperform the benchmark index based on either CAGR or MaxDD.
Monthly returns of both funds exhibit near-zero correlations with SPY monthly returns.
Monthly returns of both funds exhibit only moderate correlations with index monthly returns.
For additional perspective, we look at cumulative returns.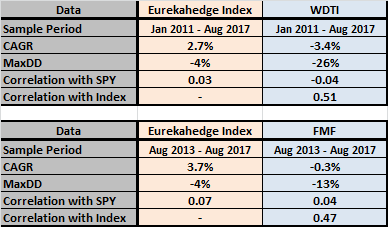 The following charts compare cumulative returns for WDTI and the index (upper chart) and FMF and the index (lower chart) over respective sample periods. Both funds exhibit an initial short burst of outperformance relative to the benchmark and then increasingly fall behind.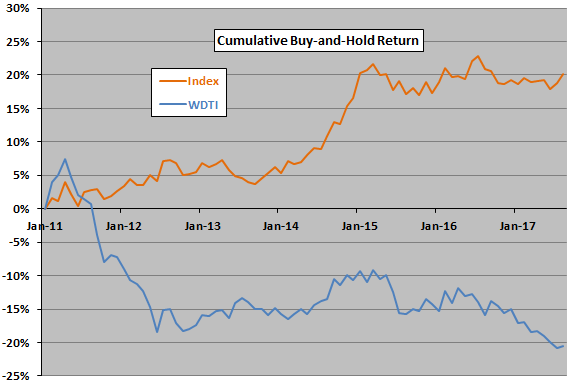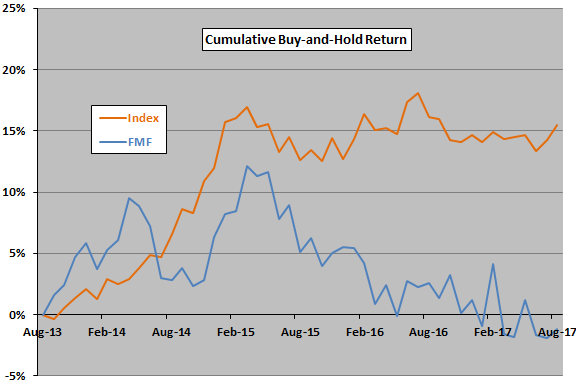 In summary, limited available evidence on attractiveness of managed futures ETFs suggests that any benefits from diversification of equities are unlikely to compensate for poor absolute returns.
Cautions regarding findings include:
Available sample periods are short, especially in terms of variety of market conditions.
Trading volumes are generally low, and fund capacities to absorb investments may be modest.
See also "Alternative Mutual Fund Performance" and "Managed Futures as Portfolio Diversifier".
Why not subscribe to our premium content?
It costs less than a single trading commission.
Learn more here.