Will equity funds "managed" by artificial intelligence (AI) outperform human investors? To investigate, we consider the performance of AI Powered Equity ETF (AIEQ), which "seeks to provide investment results that exceed broad U.S. Equity benchmark indices at equivalent levels of volatility." Per the offeror, the EquBot model supporting AIEQ: "…leverages IBM's Watson AI to conduct an objective, fundamental analysis of U.S.-listed common stocks and real estate investment trusts…based on up to ten years of historical data and apply that analysis to recent economic and news data. Each day, the EquBot Model…identifies approximately 30 to 125 companies with the greatest potential over the next twelve months for appreciation and their corresponding weights… The EquBot model limits the weight of any individual company to 10%. At times, a significant portion of the Fund's assets may consist of cash and cash equivalents." We use SPDR S&P 500 (SPY) as a simple benchmark for AIEQ performance. Using daily dividend-adjusted closes of AIEQ and SPY from AIEQ inception (October 18, 2017) through June 2019, we find that:
The following scatter plot relates daily AIEQ returns to daily SPY returns over the available sample period. The daily alpha (beta) of AIEQ relative to SPY is -0.01% (1.08), suggesting slight underperformance with a little higher than targeted volatility. For comparison, average daily return for AIEQ (SPY) over the sample period is 0.04% (0.04%), with standard deviation 1.07% (0.94%).
Results from very negative SPY daily returns suggest that AIEQ does not offer equity market crash protection.
Is there any trend in relative performance?
The following chart tracks the time series of daily AIEQ return minus SPY return over the available sample period, including a linear trend line. AIEQ beats SPY on 51% of trading days. Results suggest that AIEQ relative performance may be very slightly weakening, but the sample is small for trend analysis.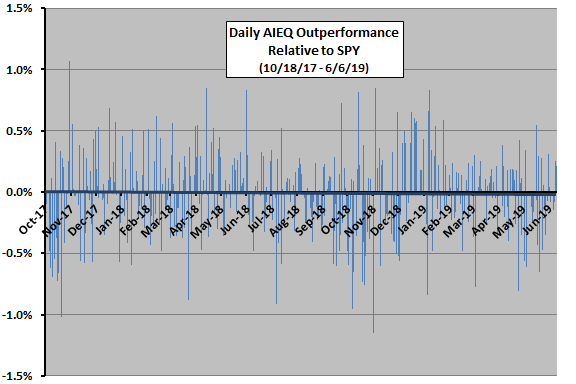 In summary, very limited available evidence offers little support for belief that an AI-based equity fund can beat the market.
Cautions regarding findings include:
The sample period is extremely short, especially with respect to 12-month AIEQ valuation horizon and variety of market conditions.
The underlying EquBot Model may not be effective in finding stocks that outperform over short horizons.
Position constraints may inhibit AI outperformance.
While SPY is a reasonable benchmark based on fund offeror objectives, it may not be the best match for the specified AIEQ investing approach because of SPY's large firm composition.
We will occasionally update this analysis as performance data accumulate to assess evolving AI expertise.
See also "Watsonizing Financial Markets?".
Why not subscribe to our premium content?
It costs less than a single trading commission.
Learn more here.